Application of Laser Cutting PCD Tool Technology
PCD, also known as polycrystalline diamond, is a new type of superhard material formed by sintering diamond with cobalt as a binder at high temperature of 1400 ℃ and high pressure of 6GPa. PCD composite sheet is a superhard composite material composed of a 0.5-0.7mm thick PCD layer combined with a hard alloy substrate (usually tungsten steel) at high temperature and pressure, as shown in Figure 1. It not only possesses the high hardness and wear resistance of PCD, but also possesses the good strength and toughness of hard alloys. PCD composite sheets are made into PCD blades through processes such as cutting, welding, and edge grinding, which are widely used in the mechanical processing and machine tool industry. Cutting tools made of PCD materials are used on machine tools, solving the performance requirements of some hard alloy, ceramic cutting tools, high-speed steel and other cutting tools that cannot achieve ultra-high surface brightness, smoothness, ultra-high precision, and high hardness when processing workpieces, Therefore, PCD tools are known as superhard tools or gemstone tools in the mechanical manufacturing industry.
PCD tools are made by welding PCD composite sheets onto the tool body. Due to the combination of the high hardness, wear resistance, low friction coefficient, and strength of single crystal diamond with the high bending strength of the hard alloy tool body, the tungsten carbide hard alloy layer of the PCD composite provides mechanical support for the PCD layer, increasing its bending strength. At the same time, the hard alloy layer is easy to weld, making it easy to make finished cutting tools. At present, the structural forms of PCD tools on the market include: PCD blades, PCD milling cutters, PCD reamers, PCD drills, PCD groove cutters, non-standard formed PCD tools, etc.
PCD tools have the characteristics of high hardness, strong wear resistance, low friction coefficient, high elastic modulus, and also have the characteristics of low thermal expansion coefficient and high thermal conductivity. Widely used in industries such as automobiles, ships, aerospace, electronic parts processing, etc
At present, the main processing methods for PCD tools are electric discharge wire cutting, high-speed steel plate grinding, and laser cutting. Due to the immature laser cutting technology in China, the cost of research and development equipment remains high. Most manufacturers choose to use electric discharge wire cutting or high-speed steel plate grinding methods to process PCD tools.
The traditional principle of wire EDM machining is to achieve the cutting of workpiece materials by connecting the wire to the positive electrode of high-voltage electricity and the workpiece to the negative electrode, forming a local pulse discharge between the two. The principle of high-speed steel disc grinding processing is to use high-speed rotating high-speed steel discs to generate friction between PCD workpieces under a certain pressure, resulting in high temperatures. Through the sliding of high-speed steel discs on the surface of PCD workpieces, diamond grains are broken and cracked to achieve the grinding purpose. The principle of laser cutting PCD is that a laser beam with extremely high energy density is irradiated on the surface of polycrystalline diamond, and some of the light energy is absorbed by the surface and converted into thermal energy. The temperature of the local area of the irradiation spot rapidly rises to tens of thousands of degrees, causing the polycrystalline diamond material to melt or even vaporize locally and form pits. By comparing the machining principles of electric discharge wire cutting, high-speed steel disc grinding, and laser cutting, it is analyzed that laser cutting has the following advantages:
At present, electric discharge wire cutting and high-speed steel disc grinding can cause diamond grains to crack during the processing, damaging the structure of PCD materials and affecting their cutting performance. Moreover, due to the inherent limitations of the principles of electric discharge wire cutting and high-speed steel disc grinding, the radius of the cutting edge is limited, and coarse PCD materials cannot be processed, and there cannot be chip breaking grooves. In order to achieve good cutting quality, electric discharge wire cutting often requires multiple processing of the workpiece. Laser cutting directly acts on diamond grains and connecting materials for processing, which can process high-purity, coarse particle PCD materials and obtain a cutting edge fillet radius of<15 μ m. Perfect cutting effect without a broken blade.
With the increasing range of tool applications, the requirements for tools are becoming increasingly strict. Among them, one of the most important indicators to measure the cutting performance of PCD tools is the blunt radius of the cutting edge,. In the mechanical processing industry, it has an important impact on cutting performance such as cutting force, cutting stress, and tool wear.
During the discharge process of the workpiece, electric discharge wire cutting tools will produce a tip effect, and the high temperature of the cutting seam tip will affect the blunt radius of the tool. Generally, the blunt radius range of PCD tools in electric discharge wire cutting is 10-12 μm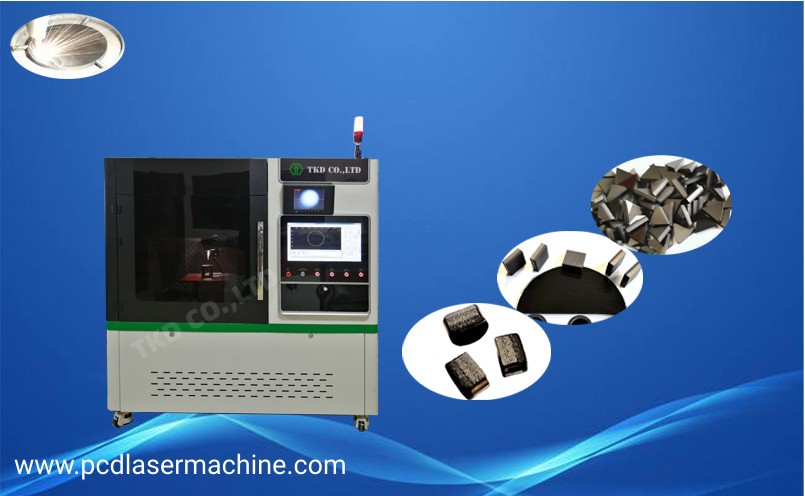 Laser cutting process is a non-contact machining process with good cutting quality and a minimum blunted edge radius range of 3-5 μ Between m. It has the advantages of high efficiency and easy control, providing a lot of flexibility for production and manufacturing. For manufacturers with high requirements for cutting tools in their products, laser processing is undoubtedly the most ideal method.
In the process of electric discharge wire cutting, the workpiece is cut through high-voltage electricity, causing local discharge in the workpiece area. The process generates a high temperature of several thousand degrees, causing internal melting of the metal bond, resulting in changes in the electrical performance of the PCD after processing and reducing the chip performance of the cutting tool. The principle of laser cutting is to make the workpiece at its focal position be irradiated by a high-power density laser spot, which instantly generates a high temperature of tens of thousands of degrees, causing it to vaporize instantly. The thermal impact during the cutting process is relatively small. So using laser cutting PCD tools has the advantage of improving tool cutting performance.
In the future, aluminum, manganese, and other light alloys, as well as titanium alloys, sintered alloys, and other high-strength alloys, will increasingly be used as materials for automotive powertrain components. The market for diamond cutting tools capable of processing these materials is expected to have a significant growth. In addition, due to the high hardness, high heat resistance, long service life, sharpness of chip edges, and good thermal conductivity of PCD tools, they can meet the requirements of high-speed, efficient, high-precision, new materials, and new shapes for automotive component processing. Therefore, PCD tools will be widely used.